Fortress Explorations is a Walk-Through attraction at Tokyo DisneySea in the Mediterranean Harbor area that opened on September 4, 2001.
Summary
This attraction is on the west side of Mediterranean Harbor, making it like a fortress. Within the attraction guests can walk around freely. There are three restaurants ("Magellan's", "Magellan's Lounge", "Refrescos") in the attraction.
There are two entrances to the attraction: Ponte Vecchio (bridge parallel to "DisneySea Electric Railway") and aisle to Mysterious Island. Although you can enter from either side, these two entrances will also be used as a passage, so it is often crowded. Also, on July 7, 2008, an exploration-type new program called "The Leonardo Challenge" started.
This attraction is set as a fortress of a fictional society called S.E.A. (Society of Explorers and Adventurers). Many prominent researchers or Adventurers such as Ferdinand Magellan, Marco Polo and Leonardo da Vinci was the member of this society.
v - e - d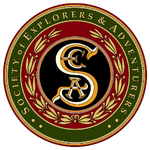 Restaurants
Magellan's • Jock Lindsey's Hangar Bar • Skipper Canteen