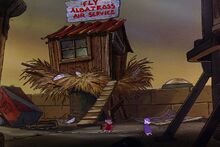 The Fly Albatross Air Service is the aerial compagny owned by Orville (The Rescuers). After his depart, he was replaced here by his brother Wilbur (The Rescuers Down Under).
Gallery
Ad blocker interference detected!
Wikia is a free-to-use site that makes money from advertising. We have a modified experience for viewers using ad blockers

Wikia is not accessible if you've made further modifications. Remove the custom ad blocker rule(s) and the page will load as expected.