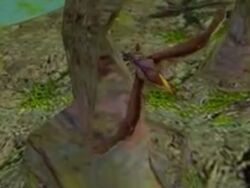 Flia is a character from the Dinosaur video game. Added to Aladar's group for the purposes of having an airborne playable character, Flia is a Pteranodon based on the pteranodon that carried Aladar's egg to Lemur Island.
Trivia
Despite only appearing in one scene in the film, Flia is one of the three playable characters in the game.
Ad blocker interference detected!
Wikia is a free-to-use site that makes money from advertising. We have a modified experience for viewers using ad blockers

Wikia is not accessible if you've made further modifications. Remove the custom ad blocker rule(s) and the page will load as expected.