Ad blocker interference detected!
Wikia is a free-to-use site that makes money from advertising. We have a modified experience for viewers using ad blockers

Wikia is not accessible if you've made further modifications. Remove the custom ad blocker rule(s) and the page will load as expected.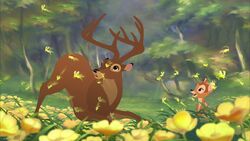 "
First Sign of Spring
" is a song featured in
Bambi II.
It is sung by Michelle Lewis.
Lyrics
Why does winter
Always make you wait
For a glimpse of sun?

Takes a simple clue
Or leap of faith
To know the time will come
When long, cold nights
Fade into memory
Looking at the morning light
And we will be together
Leaving our cares behind forever
At the first sign of spring

The heat of the sun
Will shine right through
And never a moment comes too soon
As the first sign of spring

Air is getting warmer
By the day
As the thaw begins
So put a corner on this page
The leaves are green again
And cloudy skies
Are lifting away
Right in front of our very eyes
And we will be together

(At the first sign of spring....
At the first sign of spring...)


A new season 's begun
For a Father and son
And everything grows a little faster
And every moment stretches longer
And it will only get much stronger

We will be together
Leaving our cares behind forever
At the first sign of spring
The heat of the sun will shine right through
Never a moment comes too soon
As the first sign of spring

(At the first sign of spring...
At the first sign of spring...)