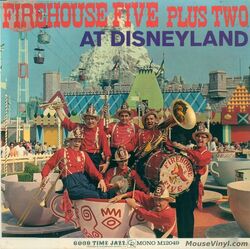 The Firehouse Five Plus Two was a Dixieland jazz band, popular in the 1950s, consisting of members of the Walt Disney Studios animation department.
The members of the Firhouse Five Plus Two were:
The band appeared in cartoon form in the Goofy cartoon, How to Dance.
The band received an homage in the ending of the 2009 Disney film The Princess and the Frog, with the jazz-playing alligator Louis now belonging to a group called "The Firefly Five Plus Lou."
Gallery
Ad blocker interference detected!
Wikia is a free-to-use site that makes money from advertising. We have a modified experience for viewers using ad blockers

Wikia is not accessible if you've made further modifications. Remove the custom ad blocker rule(s) and the page will load as expected.