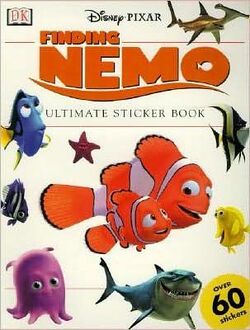 Finding Nemo: Ultimate Sticker Book is a Finding Nemo sticker book published by DK Publishing, Inc. in 2003.
Product Description
The Ultimate Finding Nemo Sticker Book will thrill young fans of the film. Stick Nemo and other images from his magical ocean world onto fullcolor backgrounds from the movie to create your own stories and scenes.
Product Description
ISBN-13: 9780789492456
Publisher: DK Publishing, Inc.
Publication date: March 17, 2003
Ad blocker interference detected!
Wikia is a free-to-use site that makes money from advertising. We have a modified experience for viewers using ad blockers

Wikia is not accessible if you've made further modifications. Remove the custom ad blocker rule(s) and the page will load as expected.