"An unforgettable journey she probably won't remember."
―Tagline
Finding Dory is an upcoming 2016 sequel to the 2003 Pixar film Finding Nemo to be directed by Andrew Stanton, who also directed the original film. The film was confirmed by Walt Disney Pictures in April 2013, with a scheduled release date of June 17, 2016 after an original release date of November 25, 2015.[1]
It has also been confirmed that characters from the first film will appear in the sequel, including Dory, Nemo, Marlin and the Tank Gang. Plans for a sequel to Finding Nemo have been in development as far back as 2005 similar to other Pixar projects, and sequels.
Synopsis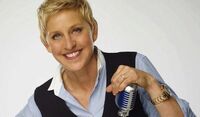 From the official Disney press release: Finding Dory will be focused on the amnesiac character Dory, and will explore the idea of her being reunited with her family.
It will take place one year after Finding Nemo and be set off the coast of California.
During the Cannes Festival, Lasseter revealed details. The adventure would include a dip through the Pacific Ocean where shipping containers have fallen off boats, a frightening encounter with a giant squid, wading past a kelp forest on California's northern coastline; and new friends in the form of an octopus and a whale-shark named Destiny. "She thinks she's a whale, but she's actually a shark," Lasseter said.
"BURBANK, Calif. (April 2, 2013) – When Dory said "just keep swimming" in 2003's Oscar®-winning film Finding Nemo, she could not have imagined what was in store for her (not that she could remember). Ellen DeGeneres, voice of the friendly-but-forgetful blue tang fish, revealed details today about Disney•Pixar's Finding Dory —an all-new big-screen adventure diving into theaters on Nov. 25, 2015.
"I have waited for this day for a long, long, long, long, long, long time," said DeGeneres. "I'm not mad it took this long. I know the people at Pixar were busy creating Toy Story 16. But the time they took was worth it. The script is fantastic. And it has everything I loved about the first one: It's got a lot of heart, it's really funny, and the best part is—it's got a lot more Dory."
Director and Pixar veteran Andrew Stanton takes audiences back to the extraordinary underwater world created in the original film. "There is no Dory without Ellen," said Stanton. "She won the hearts of moviegoers all over the world—not to mention our team here at Pixar. One thing we couldn't stop thinking about was why she was all alone in the ocean on the day she met Marlin. In Finding Dory, she will be reunited with her loved ones, learning a few things about the meaning of family along the way."
According to Stanton, Finding Dory takes place about a year after the first film, and features returning favorites Marlin, Nemo and the Tank Gang, among others. Set in part along the California coastline, the story also welcomes a host of new characters, including a few who will prove to be a very important part of Dory's life.
Finding Nemo won the 2003 Academy Award® for Best Animated Feature; the film was nominated for three additional Oscars® (Best Writing, Original Screenplay; Best Music, Original Score; Best Sound Editing). It was also nominated for a Golden Globe® Award for Best Motion Picture–Comedy or Musical. In 2008, the American Film Institute named Finding Nemo among the top ten greatest animated films ever made. At the time of its release, Finding Nemo was the highest grossing G-rated movie of all time. It is currently the fourth highest grossing animated film worldwide. The film has more than 16 million Likes on Facebook, and Dory—with more than 24 million—is the most Liked individual character from a Disney or Disney•Pixar film.
DeGeneres' distinctive comic voice has resonated with audiences from her first stand-up comedy appearances through her work today on television, in film and in the literary world. Her syndicated talk show, "The Ellen DeGeneres Show," is in its 10th season and has earned 38 Daytime Emmy® Awards. DeGeneres has won 12 People's Choice Awards and the Teen Choice Award for Choice Comedian for three consecutive years. Additionally, her show won two Genesis Awards and a GLAAD Media Award for Outstanding Talk Show Episode. For her unforgettable turn as Dory, DeGeneres was nominated for an MTV Movie Award for Best Comedic Performance."
―Press release
Plot
Taking place six months after the first film, Dory suddenly recalls her childhood memories. Remembering something about "the jewel of, Monterey, California", accompanied by Nemo and Marlin, she sets out to find her family. She arrives at the Monterey Marine Life Institute, where she meets Bailey, a white beluga whale, Destiny, a whale shark and Hank the octopus, who becomes her guide.
Cast
Production
In 2005, after disagreements between Disney's Michael Eisner and Pixar's Steve Jobs over the distribution of Pixar's films, Disney announced that they would be creating a new animation studio, Circle 7 Animation, to make sequels to the seven Disney-owned Pixar films (which consisted of the films released between 1995 and 2006). The studio had put Toy Story 3 and Monsters University in development, and had also hired screenwriter Laurie Craig to write a draft for Finding Nemo 2. Circle 7 was subsequently shut down after Robert Iger replaced Eisner as CEO of Disney and arranged the acquisition of Pixar.
In July 2012, it was reported that Andrew Stanton was developing a sequel to Finding Nemo, with Victoria Strouse writing the script and a schedule to be released in 2016. However, the same day the news of a potential sequel broke, director Andrew Stanton posted a message on his personal Twitter calling into question the accuracy of these reports. The message said, "Didn't you all learn from Chicken Little? Everyone calm down.
Don't believe everything you read. Nothing to see here now. #skyisnotfalling" According to the report by The Hollywood Reporter published in August 2012, Ellen DeGeneres was in negotiations to reprise her role of Dory. In September 2012, it was confirmed by Stanton saying: "What was immediately on the list was writing a second Carter movie. When that went away, everything slid up. I know I'll be accused by more sarcastic people that it's a reaction to Carter not doing well, but only in its timing, but not in its conceit." In February 2013, it was confirmed by the press that Albert Brooks would reprise the role of Marlin in the sequel.
In April 2013, Disney announced the sequel Finding Dory for November 25, 2015, confirming that Ellen DeGeneres and Albert Brooks would be reprising their roles as Dory and Marlin, respectively. Ellen has made a long campaign for a sequel on The Ellen DeGeneres Show.
In a Los Angeles Times interview, Stanton talked about the sequel's origin: "There was polite inquiry from Disney (about a Finding Nemo sequel). I was always 'No sequels, no sequels.' But I had to get on board from a VP standpoint. (Sequels) are part of the necessity of our staying afloat, but we don't want to have to go there for those reasons. We want to go there creatively, so we said (to Disney), 'Can you give us the timeline about when we release them? Because we'd like to release something we actually want to make, and we might not come up with it the year you want it.'"
The film's ending was revised after Pixar executives viewed Blackfish, a documentary film which focuses on dangers of keeping orca whales in captivity. Initially, some of the characters would end in a SeaWorld-like marine park, but the revision gave them an option to leave. On September 18, 2013, it was announced that the film would be pushed back to a June 17, 2016 release. Pixar's The Good Dinosaur was moved to the November 25, 2015 slot in order to allow more time for production of the film.
On March 17, 2016, Michael Sheen revealed that his character had been deleted from the film.
On April 13, 2016, the first 27 minutes of the film was shown.
Release
Finding Dory is scheduled to be released on June 17, 2016, marking the 30th anniversary of Pixar.
International Release Dates
Videos
Gallery
Trivia
This is the second Pixar sequel/prequel to not have the same name as the original with a number after it, with the first one being Monsters University.
Finding Nemo is the fourth Pixar film to become a franchise, after Toy Story, Cars and Monsters, Inc.
This is the third Pixar movie to have a female protagonist, after Brave and Inside Out.
This is the third Pixar sequel to have the co-star from the first film to become the protagonist, after Cars 2 (Mater) and Monsters University (Mike).
The movie is rated PG.

It is the sixth Pixar film with the PG rating. This is unlike the original Finding Nemo, which was rated G by the MPAA.
It is also the first PG-rated Pixar sequel.
It recieved the basis of "'Mild thematic elements".

The song that plays during the first trailer is called "Beyond the Sea", which has already been featured in the credits of Finding Nemo.
The song that plays during the second trailer is "Solsbury Hills" by Peter Gabriel.
References
External links
| | |
| --- | --- |
| | This page uses Creative Commons Licensed content from the Pixar Wiki. The list of authors can be seen in the page revision history (view authors). As with Disney Wiki, the text of the Pixar Wiki is available under the CC-BY-SA license. |