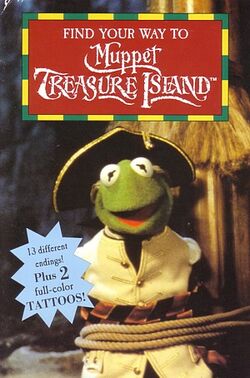 Find Your Way to Muppet Treasure Island is a choose-your-own-adventure style book based on the 1996 film Muppet Treasure Island.
Description
Open this book, affix the temporary tattoos to your forearm, and become part of the wild and zany Muppet pirate crew from the Muppet Treaure Island movie. Will you dig for buried treasure, or wind up peeling potatoes in the ship's galley? Choose from 13 mind-boggling possibilities. Includes two, full-color temporary tattoos.
Details
Paperback: 56 pages
Publisher: Grosset & Dunlap (January 9, 1996)
Language: English
ISBN-10: 0448412780
ISBN-13: 978-0448412788
Ad blocker interference detected!
Wikia is a free-to-use site that makes money from advertising. We have a modified experience for viewers using ad blockers

Wikia is not accessible if you've made further modifications. Remove the custom ad blocker rule(s) and the page will load as expected.