Description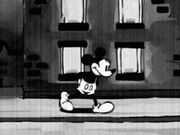 An unreleased and mysterious Walt Disney short, found in the archives of Walt Disney Pictures. The short is named "Suicide Mouse" and was made by Walt Disney in 1931, according to the written information on the film print.* The original length of this short is around nine minutes long, but for an unknown reason a large part of it is lost. However, the first three minutes are intact, and can be seen in the video I have uploaded above.
I used to work at the Walt Disney Animation Studios some months ago, and made a few visits at the archives of Walt Disney Pictures, where most of the original film prints of Disney-movies are stored**. During a visit, I found a film print named "Suicide Mouse". Out of curiosity, I put it into an old film projector used to check the film prints, and watched it, but somehow it was cut off about three minutes into the short, as I explained earlier.
There are rumors about this short being leaked on the Internet some years ago. I do not have any information about this, but the rumors may be true, as a screen cap of the short has been shared on many websites and YouTube-videos since 2009. Last year, in November, the short was leaked (again?) in the three minute form by an unknown person. It has been uploaded several times to YouTube since then***.
Why a part of the film print has been cut off is a mystery, and it is unknown if any other copies of the film print were made or still exist in the original length. This three minute-version of the film print is the only one I have found in the archives. For now, the footage seen in the video above is the only original footage we have.
.*In October 1930, a few Mickey Mouse Comic Strips were made where Mickey tried to commit suicide in different ways (connection?).
.**Walt Disney Pictures usually publishes our animated films from the Animation Studios, so we were allowed to make a few visits.
.***The original screen cap is located here: http://i56.servimg.com/u/f56/14/41/92/25/7ff10.jpg.
If you do a bit of research, you will notice that this picture has been uploaded to websites and YouTube-videos dating back to 2009, a few years before this short was leaked on the Internet (again?) in November 2013.
File history
Click on a date/time to view the file as it appeared at that time.
Date/Time
Thumbnail
Dimensions
User
Comment
current
14:05, December 9, 2014

03:08

480 × 269

(13 KB)

Secrets of the Walt Disney Pictures Archives (wall | contribs)
created video
22:53, September 1, 2014

03:08

480 × 269

(13 KB)

Felix the Cat123 (wall | contribs)
created video
22:53, September 1, 2014

03:08

480 × 269

(13 KB)

Felix the Cat123 (wall | contribs)
created video
22:53, September 1, 2014

03:08

480 × 269

(13 KB)

Felix the Cat123 (wall | contribs)
created video
22:53, September 1, 2014

03:08

480 × 269

(13 KB)

Felix the Cat123 (wall | contribs)
created video
22:53, September 1, 2014

03:08

480 × 269

(13 KB)

Felix the Cat123 (wall | contribs)
created video
Metadata