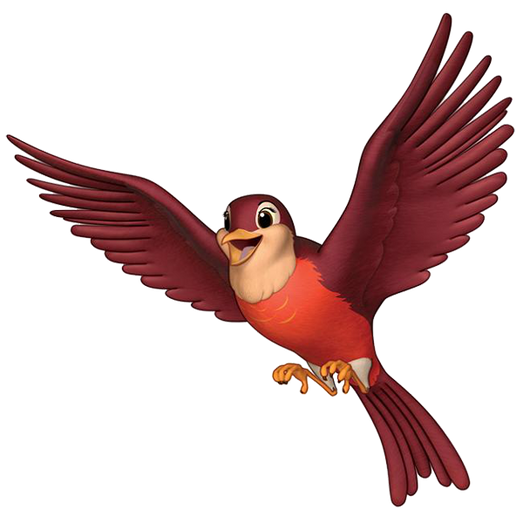 There is no description yet. Add a description.
Appears on these pages

of
Meghan Strange is an American voice actor. Her Disney roles included Paw Pilot in Special Agent...

Robin is a sentient robin and a minor character in the Disney Junior series Sofia the First...
File history
Click on a date/time to view the file as it appeared at that time.
Date/Time
Thumbnail
Dimensions
User
Comment
current
14:27, February 20, 2018
686 × 629

(293 KB)

Ngh93 (wall | contribs)
Just thought this photo needed a little cropping.
07:09, February 20, 2018
900 × 800

(283 KB)

Alex2424121 (wall | contribs)
Reverted to version as of 00:37, October 9, 2013
02:30, February 20, 2018
644 × 600

(267 KB)

Ngh93 (wall | contribs)
00:37, October 9, 2013
900 × 800

(283 KB)

Kyurem147 (wall | contribs)
00:34, October 9, 2013
900 × 800

(283 KB)

$neaky$nook (wall | contribs)
Reverted to version as of 00:28, October 9, 2013
00:31, October 9, 2013
900 × 800

(283 KB)

Kyurem147 (wall | contribs)
00:28, October 9, 2013
900 × 800

(283 KB)

$neaky$nook (wall | contribs)
Reverted to version as of 00:26, October 9, 2013
00:28, October 9, 2013
900 × 800

(283 KB)

Kyurem147 (wall | contribs)
00:26, October 9, 2013
900 × 800

(283 KB)

$neaky$nook (wall | contribs)
00:25, October 9, 2013
900 × 800

(283 KB)

Kyurem147 (wall | contribs)
00:20, October 9, 2013
900 × 800

(227 KB)

$neaky$nook (wall | contribs)
Reverted to version as of 00:17, October 9, 2013
00:19, October 9, 2013
900 × 800

(283 KB)

Kyurem147 (wall | contribs)
00:17, October 9, 2013
900 × 800

(227 KB)

$neaky$nook (wall | contribs)
Reverted to version as of 00:14, October 9, 2013
00:16, October 9, 2013
900 × 800

(283 KB)

Kyurem147 (wall | contribs)
00:14, October 9, 2013
900 × 800

(227 KB)

$neaky$nook (wall | contribs)
Reverted to version as of 00:11, October 9, 2013
00:13, October 9, 2013
900 × 800

(283 KB)

Kyurem147 (wall | contribs)
00:11, October 9, 2013
900 × 800

(227 KB)

$neaky$nook (wall | contribs)
Reverted to version as of 00:10, October 9, 2013
00:10, October 9, 2013
900 × 800

(283 KB)

Kyurem147 (wall | contribs)
00:10, October 9, 2013
900 × 800

(227 KB)

$neaky$nook (wall | contribs)
Reverted to version as of 00:05, October 9, 2013
00:07, October 9, 2013
900 × 800

(283 KB)

Kyurem147 (wall | contribs)
00:05, October 9, 2013
900 × 800

(227 KB)

$neaky$nook (wall | contribs)
Reverted to version as of 08:25, October 8, 2013
00:04, October 9, 2013
900 × 800

(283 KB)

Kyurem147 (wall | contribs)
00:03, October 9, 2013
900 × 800

(227 KB)

$neaky$nook (wall | contribs)
Reverted to version as of 06:07, October 5, 2013
00:02, October 9, 2013
900 × 800

(283 KB)

Kyurem147 (wall | contribs)
23:54, October 8, 2013
900 × 800

(227 KB)

$neaky$nook (wall | contribs)
Reverted to version as of 06:07, October 5, 2013
23:51, October 8, 2013
900 × 800

(283 KB)

Kyurem147 (wall | contribs)
19:56, October 8, 2013
900 × 800

(227 KB)

$neaky$nook (wall | contribs)
Reverted to version as of 08:25, October 8, 2013
14:54, October 8, 2013
900 × 800

(283 KB)

Kyurem147 (wall | contribs)
08:25, October 8, 2013
900 × 800

(227 KB)

$neaky$nook (wall | contribs)
Reverted to version as of 06:07, October 5, 2013
08:19, October 8, 2013
900 × 800

(283 KB)

Kyurem147 (wall | contribs)
06:07, October 5, 2013
900 × 800

(227 KB)

$neaky$nook (wall | contribs)
Metadata