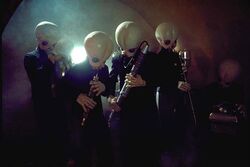 Figran D'an and the Modal Nodes are an all-Bith music band specializing the Jizz and Jatz. They perform and entertain at the Mos Eisley Cantina. During Star Wars Weekends, the band appears during the Hyperspace Hoopla and play their signature song.
External links
Ad blocker interference detected!
Wikia is a free-to-use site that makes money from advertising. We have a modified experience for viewers using ad blockers

Wikia is not accessible if you've made further modifications. Remove the custom ad blocker rule(s) and the page will load as expected.