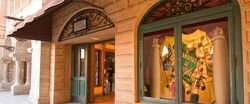 Figaro's Clothiers
is a shop located in
Mediterranean Harbor
. This apparel shop is named after the protagonist of the world famous opera, "The Barber of Seville." Mickey, Minnie and other Disney characters dressed as famous characters from the world of opera welcome you.
This shop is as elegant and colorful as an opera house, and is full of fashionable clothing, jackets, hats, baby goods and more. Figaro's Clothiers also has appropriately costumed representations of Disney characters.
A word of caution about buying clothing at Tokyo Disney Resort: Japanese clothing is small. If you're an American and you wear a large-sized t-shirt, buy an "L"-sized t-shirt here and I guarantee you it will be way too small. Making matters worse, they don't have sizes for larger (or even medium) sized folks at all. Unless you wear a small or medium-sized t-shirt, you probably won't be able to find anything to wear here.
Gallery