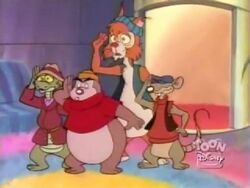 Fat Cat is usually accompanied by these four henchmen. In spite of their combined stupidity, Fat Cat almost always sends them out to do his dirty work for him, as he is too smart or lazy to dirty his paws himself.
Wart: A lizard, who dresses in a gangster-style suit and hat similar to his boss. Out of all of the henchmen, he is probably the most intelligent and will sometimes ask questions about his boss' scheme, to which Fat Cat will usually explain in a gracious way, despite how simple he thinks he is. His voice is similar to Peter Lorre. He was voiced by Jim Cummings.
Mole: Slow-witted but cheerful, this overweight mole wears an undersized red t-shirt and a yellow stalking cap. When plans go wrong, Mole usually is the one who Fat Cat chooses to use as a punching bag. In these instances, Fat Cat is harshly critical of Mole (in fact, he just might be the most criticized member of the gang). He was voiced by Corey Burton.
Mepps: A thin alley cat with brown and creme colored fur, who dresses in a ratty blue vest and toboggan who speaks with a whiny voice, provided by Peter Cullen.
Snout: A rat that wears a short sleeved red turtle neck with a black vest and a dark blue hat that covers his eyes. It is possible the Snout joined the gang after the rangers formed and initially defeated Fat Cat because unlike Mole and Mepps, who appear in 16 episodes, and Wart, who appears in 15, Snout only appears in 7. His voice is similar to Paul Lynde. He was voiced by Corey Burton.
Gallery