Fantasia is the title of a side-scrolling video game developed by Infogrames and produced by Sega for its own Mega Drive/Genesis system. The game was loosely based on the popular Walt Disney musical film of the same name.
Storyline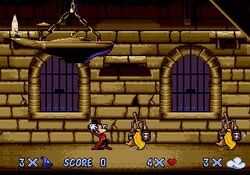 "While the Apprentice Sorcerer slept his master's music was stolen away. Now his dreams must restore the notes so the music again can play."
In the single-player game, the player controls Mickey Mouse through various side-scrolling levels in an attempt to collect various musical notes that somehow went missing. Each of the four levels were based on the Fantasia animated musical with each one based around one of the four elements: water (The Sorcerer's Apprentice, Dance of the Reed Flutes and Arabian Dance), earth (The Rite of Spring), air (Russian Dance, Pastoral Symphony and Dance of the Hours) and fire (Night on Bald Mountain, Toccata and Fugue in D Minor). The player defeats various enemies by jumping on them or by collecting magical bubbles that could be used to shoot at enemies as projectiles. In each level, the player collects a certain number of hidden magical notes in order for the Fantasia musical to occur.
Reception
The game was poorly received, with MegaTech magazine saying the game was "a massive disappointment. Poorly designed, bland and frustrating, with very little appeal". Mega placed the game at #6 in their list of the 10 Worst Mega Drive Games of All Time.
See also
| | |
| --- | --- |
| | This page uses content from the English Wikipedia. The article or pieces of the original article was at Fantasia (video game). The list of authors can be seen in the page history. As with Disney Wiki, the text of Wikipedia is available under the GNU Free Documentation License. |