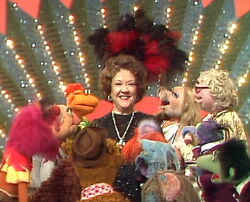 Ethel Merman (January 16, 1908 – February 15, 1984) was an American actress and singer. Known primarily for her powerful voice and roles in musical theatre, she has been called "the undisputed First Lady of the musical comedy stage." While she never had any Disney roles, she appeared as a guest star in episode 122 of The Muppet Show.
Gallery
Ad blocker interference detected!
Wikia is a free-to-use site that makes money from advertising. We have a modified experience for viewers using ad blockers

Wikia is not accessible if you've made further modifications. Remove the custom ad blocker rule(s) and the page will load as expected.