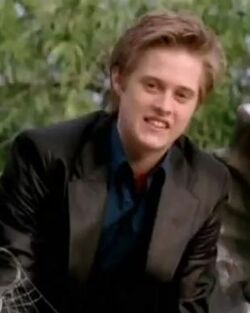 Ethan Dalloway
is a character in the
Disney Channel Original Movies
Halloweentown High
and
Return to Halloweentown
. He is the son of Edgar Dalloway, and a friend of Marnie Piper.
Ethan was a warlock, and one of the few students from Halloweentown to go to high school in the mortal world. He travels to the mortal world as part of an experiment to live among mortals, and plays a rival of Marnie in the third installment, but after changing to turning against his own father to become good, he becomes Marnie's love interest in the fourth installment. He is supposedly a warlock, but in the 4th movie says he renounced his powers after his father lost his to the Halloweentown Council. He is now a mortal like the Sinister sisters who also lost their powers because their father worked for the Dominion, but he and Marnie appear to continue their relationship. Ethan's father also worked for the Dominion once upon a time. 
Ad blocker interference detected!
Wikia is a free-to-use site that makes money from advertising. We have a modified experience for viewers using ad blockers

Wikia is not accessible if you've made further modifications. Remove the custom ad blocker rule(s) and the page will load as expected.