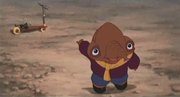 Ethan
was a dropped character in
Treasure Planet
. He was voiced by
Jeremy Suarez
In his deleted scene he was admiring Jim's solar surfer, he had a scooter but it was busted. Jim had a look at it and was about to fix it when his father (also a dropped character) fixed it for him.
Behind The Scenes
Several seconds of his scene were animated and colorised.
Ron Clements and John Musker state his scene was to demonstrate that while Jim has a rebellious side with adults, he has a softer side around children.
Ad blocker interference detected!
Wikia is a free-to-use site that makes money from advertising. We have a modified experience for viewers using ad blockers

Wikia is not accessible if you've made further modifications. Remove the custom ad blocker rule(s) and the page will load as expected.