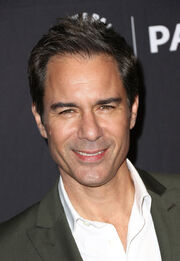 Eric James McCormack
(born April 18,
1963
) is a Canadian/American actor, musician and writer.
For Disney he played Scott Hawkes in the 1998 Touchstone Pictures film Holy Man, James Novak in the ABC Studios TV show Monk and Dr. Daniel Pierce in the ABC Studios TV show Perception.
Ad blocker interference detected!
Wikia is a free-to-use site that makes money from advertising. We have a modified experience for viewers using ad blockers

Wikia is not accessible if you've made further modifications. Remove the custom ad blocker rule(s) and the page will load as expected.