Enterprise, was set to be a land in Disney's America, unfortunately the park was never built. Enterprise was set to present the years 1870-1930.
The factory town of Enterprise plays host to inventions and innovations spawned by the ingenuity and can-do spirit that catapulted America to the forefront of industry. Within Enterprise, those daring enough can climb aboard the Industrial Revolution, a high-speed adventure through a turn-of-the-century mill culminating in a narrow escape from its fiery vat of molten steel.
Attractions
v - e - d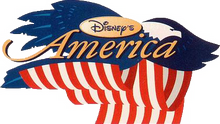 Civil War Fort
The Monitor • The Merrimac
Ad blocker interference detected!
Wikia is a free-to-use site that makes money from advertising. We have a modified experience for viewers using ad blockers

Wikia is not accessible if you've made further modifications. Remove the custom ad blocker rule(s) and the page will load as expected.