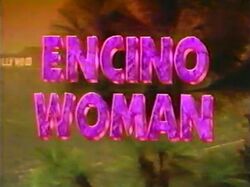 Encino Woman
is a
1996
made for television sequel to the film
Encino Man
. The film was produced by ZM Productions and
Walt Disney Television
and distributed by American Broadcasting Company (
ABC
)
Plot
Lucy, a young prehistoric woman is unearthed during an earthquake. She's very much alive, but very lost and confused in 20th-century Los Angeles. She befriends David, an ad-agency employee working on a campaign ad for a cosmetics company. He takes her in, tries to help her adapt, he then becomes Mr. Bigshot when his protégé is chosen to be the model/spokeswoman for her animal personality.
Cast
Jay Thomas as Marvin Reckler
Corey Parkeras David Hosenfelt
Katherine Kousi as Lucy
Rick Overton as Raji
John Kassir as Jean Michel
Annabelle Gurwitch as Chris
Chris Hogan as Roger
Joel Murray as Mr. Jones
Elisa Donovan as Ivana
Clarence Williams III as Javier
Bobcat Goldthwait as Yogi Paxil
Suli McCullough as Marcus
Marissa Ribisi as Fiona
Jeffrey Ross as Mr. Smith
Michael Burger as Mike
Production Details
Director: Shawn Schepps
Writers: Anne Joseph, Shawn Schepps
Ad blocker interference detected!
Wikia is a free-to-use site that makes money from advertising. We have a modified experience for viewers using ad blockers

Wikia is not accessible if you've made further modifications. Remove the custom ad blocker rule(s) and the page will load as expected.