Ad blocker interference detected!
Wikia is a free-to-use site that makes money from advertising. We have a modified experience for viewers using ad blockers

Wikia is not accessible if you've made further modifications. Remove the custom ad blocker rule(s) and the page will load as expected.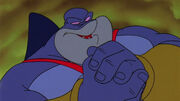 Emperor Sharga
is a character and villain from
The Little Mermaid
TV series. He is voiced by
Jim Cummings
, who based his voice on American actor
Marlon Brando
.
Sharga is leader of the Sharkanians, a race of creatures that are related to sharks, just as merfolk are related to fish. He is cunning and tricky, and wants to take over Atlantica.
Appearances
Gallery