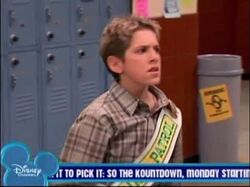 Emmett
was the hall monitor for
Bayside High School
.
Season 2
Emmett is the only student at the school uninterested in the possibility Tony the janitor was an undercover agent for Undercover Superstars. He spent the day trying to stop students from singing as he thought it broke the rules, while not realizing they were actually not breaking any rules at all. In the end, he did compliment Raven, as he thought she was the best right before giving her detention for dancing on the tables.
Ad blocker interference detected!
Wikia is a free-to-use site that makes money from advertising. We have a modified experience for viewers using ad blockers

Wikia is not accessible if you've made further modifications. Remove the custom ad blocker rule(s) and the page will load as expected.