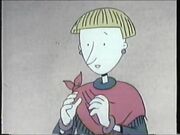 Emily Kristal
(Voiced by Fran Brill) is 
Doug
's middle school teacher, appearing only in the Disney series. She has a friendly, understanding manner, and tends to get highly into whatever book she reads to the class.
In the final season, she becomes the new girlfriend of Patti's father Chad, much to Patti's anger and frustration, but eventually learns how to deal with it, as Emily and Chad are married in the Disney series finale.
Ad blocker interference detected!
Wikia is a free-to-use site that makes money from advertising. We have a modified experience for viewers using ad blockers

Wikia is not accessible if you've made further modifications. Remove the custom ad blocker rule(s) and the page will load as expected.