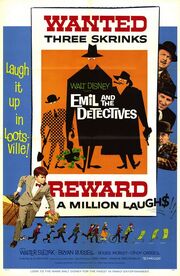 Erich Kastner's oft-filmed children's story
Emil and the Detectives
was given the Disney treatment in
1964
. Though the plot is still set in Berlin, the younger characters have been extensively Americanized, none more so than the title character (played by Bryan Russell) and aspiring teenaged detective Gustav (Roger Mobley). Travelling by bus to visit his aunt, Emil loses an envelope of money to sneak thief Grundeis (Heinz Schubert). The boy enlists the aid of a gang of young detective-story aficionados, led by Gustav, to locate the thief. This leads to a perilous adventure when it turns out that Grundeis is in league with an erudite master criminal known as The Baron (Walter Slezak), who is planning a major heist.
Cast
Walter Slezak - Baron

Bryan Russell - Emil

Roger Mobley - Gustav

Heinz Schubert - Grundeis

Elsa Wagner - Nana

Robert Swann - Hermann

Ann Noland - Frieda

Paul Glawton - Traffic Policeman

Rick Johnson - Hans
Production Credits
Director - Peter Tewksbury

Screenwriter - A.J. Carothers

Producer - Walt Disney

Editor - Cotton Warburton

Associate Producer - Peter V. Herald

Costume Designer - Leo Bei

Cinematographer - Gunther Senftleben

Book Author - Erich Kastner
Gallery
Ad blocker interference detected!
Wikia is a free-to-use site that makes money from advertising. We have a modified experience for viewers using ad blockers

Wikia is not accessible if you've made further modifications. Remove the custom ad blocker rule(s) and the page will load as expected.