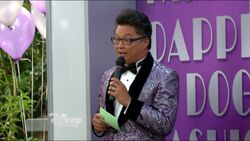 Emcee is a show host in Dog With a Blog. He's portrayed by Alec Mapa.
Character History
Emcee is the host of the 87th Annual Pasadena Dapper Dog Fashion Show. When introduced three contestants, Phil, Heather, and Avery, along with their dogs, he narrow it down to declare Avery and Stan the winner.
Trivia
Ad blocker interference detected!
Wikia is a free-to-use site that makes money from advertising. We have a modified experience for viewers using ad blockers

Wikia is not accessible if you've made further modifications. Remove the custom ad blocker rule(s) and the page will load as expected.