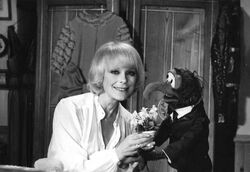 Elke Sommer (born November 5, 1940) is a German actress, entertainer and artist. Her only role in a Disney-related production so far was a guest appearance on The Muppet Show in episode 319. She also received special thanks credit in the documentary The Hand Behind the Mouse: The Ub Iwerks Story.
Sommer also did the voice of Yzma in the German dub of The Emperor's New Groove.
She had a long feud with Zsa Zsa Gabor.
Gallery