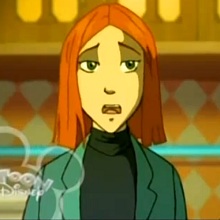 Eleanor ​Brown/Miriadel
(voiced by
Vanessa Marshall
) is
Elyon
's adopted mother, a Meridianite who raised her in Earth to hide her from Phobos. Her real name is Miriadel, she is Alborn's wife and head of the Meridian Investigation group. She currently lives with Elyon in her palace in Meridian. In season one both she and Alborn are captured and put in Cavigor Prison but the Guardians rescued them.
Family
Gallery
Ad blocker interference detected!
Wikia is a free-to-use site that makes money from advertising. We have a modified experience for viewers using ad blockers

Wikia is not accessible if you've made further modifications. Remove the custom ad blocker rule(s) and the page will load as expected.