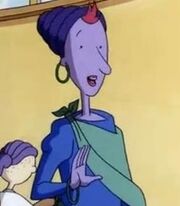 Elaine Perigrew
 is
Doug's art teacher in Disney's Doug. She gushes even over the simplest form of art the moment she sees it, and in one episode of the Nickelodeon series, she mistakenly gave Doug the credit for the hand-painted drawing, that turned out to be the back of Doug's landscape painting that was covered by Porkchop and a racoon chasing each other.

She is voiced by Fran Brill.
Ad blocker interference detected!
Wikia is a free-to-use site that makes money from advertising. We have a modified experience for viewers using ad blockers

Wikia is not accessible if you've made further modifications. Remove the custom ad blocker rule(s) and the page will load as expected.