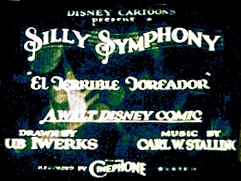 El Terrible Toreador is a Silly Symphony that was released on September 7, 1929.
Synopsis
The title character vies with a Mexican officer for the affections of a comely barmaid, all set to Latin themes from classical music.
Trivia
The matador is a caricature of Walt Disney. This wouldn't be the last time this would happen, as he would be caricatured that way again in Ferdinand the Bull.
Home video releases
DVD
Gallery