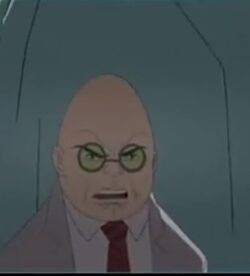 Egghead is a Marvel Comics character and supervillain who appeared in Avengers Assemble. He is voiced by Yuri Lowenthal.
Egghead was created by Stan Lee, Jack Kirby and Larry Lieber.
History
He is a briliant scientist who was fired from his job as a prop maker for a movie studio, and thus decided to become a supervillain, using his scientific mind and high-tech gadgets and weaponry to sabotage a movie based on the exploits of the Avengers. Thankfully, the actual Avengers, with the help of Ant-Man, managed to stop him. Most of his gadgets and weapons have an egg theme, hence his supervillain codename.
Ad blocker interference detected!
Wikia is a free-to-use site that makes money from advertising. We have a modified experience for viewers using ad blockers

Wikia is not accessible if you've made further modifications. Remove the custom ad blocker rule(s) and the page will load as expected.