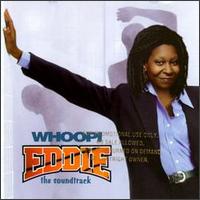 Eddie is the soundtrack to the 1996 film, Eddie. It was released on May 21, 1996 through Polygram Records and consisted of contemporary R&B and hip hop. The album peaked at 119 on the Billboard 200 and 44 on the Top R&B/Hip-Hop Albums. Two singles made it to the charts, "Say It Again" which was a minor hit on the R&B charts and the successful "It's All the Way Live (Now)".
Track listing
"It's All the Way Live (Now)"- 4:19 (Coolio)
"Ain't No Love"- 4:08 (Forty Thevz)
"Where Ya At?"- 4:40 (Ill Al Skratch)
"Punch Drunk"- 3:31 (House Of Pain)
"Da Dribbol"- 3:48 (N.B Hey)
"Scarred"- 3:30 (Luke)
"After Last Night"- 4:05 (Jodeci)
"Say It Again"- 4:24 (Nneka)
"Tell Me"- 4:13 (Dru Hill)
"Sistas"- 4:00 (Myron)
"Say That You're Ready"- 4:02 (J'Son)
"Rain Falls"- 4:07 (Stanley Clarke)
"Skills"- 4:39 (Stanley Clarke)
"Step up to the Line"- 3:55 (Kimberly Blake and Mighty Reel)
| | |
| --- | --- |
| | This page uses content from the English Wikipedia. The article or pieces of the original article was at Eddie (soundtrack). The list of authors can be seen in the page history. As with Disney Wiki, the text of Wikipedia is available under the GNU Free Documentation License. |
Ad blocker interference detected!
Wikia is a free-to-use site that makes money from advertising. We have a modified experience for viewers using ad blockers

Wikia is not accessible if you've made further modifications. Remove the custom ad blocker rule(s) and the page will load as expected.