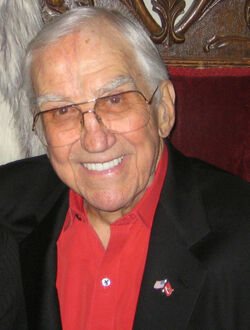 Ed McMahon (March 6, 1923 – June 23, 2009) was an American comedian, game show host and announcer. He appeared as himself in episode 205 of Muppets Tonight, the 1994 TV documentary The Wonderful World of Disney: 40 Years of Television Magic, the 1993 TV movie Walt Disney World Journey Into Magic, the host of the 1992 Walt Disney World Very Merry Christmas Parade, Mickey's 60th Birthday and the 1985 Orange Bowl Parade TV special.
Gallery
Ad blocker interference detected!
Wikia is a free-to-use site that makes money from advertising. We have a modified experience for viewers using ad blockers

Wikia is not accessible if you've made further modifications. Remove the custom ad blocker rule(s) and the page will load as expected.