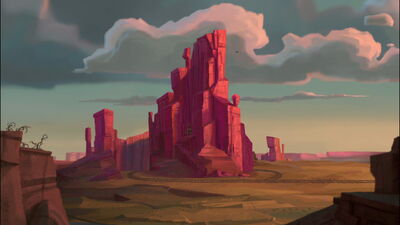 Echo Mine is a location seen in Home on the Range. It is Alameda Slim's hideout where he and his nephews, The Willie Brothers, reside and where they harbor numerous stolen cattle. Echo Mine used to be Lucky Jack's former home where he and other jackrabbits used to live, until Slim flushed them all out and then made the mine his hideout. Mr. Wesley later arrives at Echo Mine to claim the stolen cattle, but the cattle are eventually liberated by Maggie, Grace, Mrs. Calloway, Buck and Lucky Jack. Mr. Wesley, the Willies and Rico (a fake bounty hunter who has been covering up Slim's tracks) are then beaten up by Buck, Lucky Jack and the farm cows, and they lock the bad guys in a train cart. The mine is most likely left vacant after that.
Ad blocker interference detected!
Wikia is a free-to-use site that makes money from advertising. We have a modified experience for viewers using ad blockers

Wikia is not accessible if you've made further modifications. Remove the custom ad blocker rule(s) and the page will load as expected.