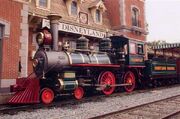 The E. P. Ripley is steam locomotive #2 on the Disneyland Railroad. E. P. Ripley is a 4-4-0 locomotive built by the Walt Disney Studios in 1954, and went into service at Disneyland on July 17, 1955. It was named after Edward Payson Ripley, the fourteenth president of the Atchison, Topeka, and Santa Fe Railway, which was the sponsor of the Disneyland Railroad from 1955 to 1974.
The steam engine was converted to burn biodiesel in 2007, as it is less polluting than oil.
Ad blocker interference detected!
Wikia is a free-to-use site that makes money from advertising. We have a modified experience for viewers using ad blockers

Wikia is not accessible if you've made further modifications. Remove the custom ad blocker rule(s) and the page will load as expected.