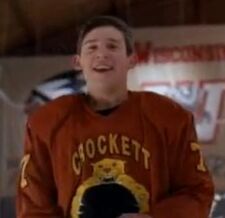 Dwayne Robertson
is a ranch hand from Austin,
Texas
. Dwayne is a hockey player and plays at the forward position. His jersey number is 7. Dwayne was part of the
Team USA
in the Goodwill Games in the film
D2: The Mighty Ducks
. He is the team's best puckhandler. He later attended
Eden Hall Academy
, as seen in
D3: The Mighty Ducks
. While at school, he rides a horse to lasso and hogtie the members of the
varsity hockey team
. Dwayne provides much of the team's comic relief with his southern demeanor and tendency to show off. Some of the Ducks either laugh or groan when he fails to understand their inside jokes or slang. He is portrayed by Ty O'Neal.
Quotes
(Facing off in practice)
Dwayne: "Great day for hockey, ain't it?"
Jesse: "Sure is, cowboy."
(Seeing Dwayne for the first time)
Dwayne: "Yee-haw! How's everybody? Y'all ready to play some puck?"
Goldberg: "Hey, look, it's Hop-Along Gretzky!"
(Going after the Iceland player)
"I'm coming, Connie! Yee-haw!"
"Where I come from, we treat ladies with respect!"
Ad blocker interference detected!
Wikia is a free-to-use site that makes money from advertising. We have a modified experience for viewers using ad blockers

Wikia is not accessible if you've made further modifications. Remove the custom ad blocker rule(s) and the page will load as expected.