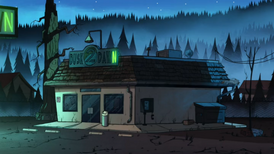 Dusk 2 Dawn is a convenience store seen in Gravity Falls. It is owned by Mr. and Mrs. Dusk. It was open during the 90s (as the last newspaper in there store was dated 1995). It was closed down and left abandoned after the owners died. Now it is haunted by the owners' ghosts. It was busted in by Dipper, Mabel and their friends.
Ad blocker interference detected!
Wikia is a free-to-use site that makes money from advertising. We have a modified experience for viewers using ad blockers

Wikia is not accessible if you've made further modifications. Remove the custom ad blocker rule(s) and the page will load as expected.