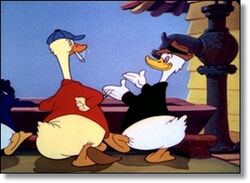 Ducky Lucky is one of a number of farmyard animals led astray by Chicken Little in the 1943 animated short, Chicken Little. His quacking vocal effects were provided by Clarence Nash. Some people think he inspired the character of Gladstone Gander, the duck who is the lucky cousin of Donald Duck, because 1° the name of Ducky Lucky is evidently a possible argument and 2° they wear exactly the same hat.
Ad blocker interference detected!
Wikia is a free-to-use site that makes money from advertising. We have a modified experience for viewers using ad blockers

Wikia is not accessible if you've made further modifications. Remove the custom ad blocker rule(s) and the page will load as expected.