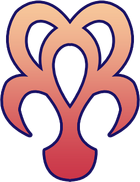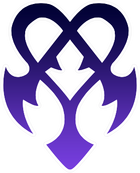 | | |
| --- | --- |
| | This page uses content from the Kingdom Hearts Wiki The list of authors can be seen in the page revision history (view authors). As with DisneyWiki, the text of the Kingdom Hearts Wiki is available under the GNU Free Documentation License. |
The Dream Eaters (ドリームイーター, Dorīmu Ītā?) are a species of creatures that debut in Kingdom Hearts 3D: Dream Drop Distance as a key element in the game. The Dream Eaters are forms that darkness takes when it enters the Realm of Sleep, and so come in two different varieties: the malevolent Nightmares, which eat good dreams and plant bad ones, and the acquaintable Spirits, which only eat bad dreams. Spirits serve as supporting characters that can be tamed by the player and serve as recruitable allies that Sora and Riku can collect, while Nightmares are the primary antagonists in the game.
Background
Dream Eaters resemble different types of animals and come in a variety of colours. Nightmares often feature a dull, monochrome colour scheme while Spirits have vividly bright colours, in contrast.
Being pure embodiments of darkness, Nightmares have a violent and aggressive behaviour similar to Heartless. However, unlike most creatures made of darkness, Spirits are the polar opposite as they are playful and helpful, aiding Sora and Riku throughout the entire game. They represent a more positive form of darkness.
Appearances
Kingdom Hearts 3D: Dream Drop Distance
After Ansem's defeat in Kingdom Hearts, the some worlds that remained trapped in the darkness became Sleeping Worlds. Nightmare Dream Eaters were born to substitute the Heartless's previous goal of devouring the worlds's Keyholes. With the help of Spirits, Sora and Riku manage to defeat the Nightmares and awake the Sleeping Worlds. Eventually it is revealed that from the start of his Mark of Mastery exam, Riku was within Sora's own dreams, making Riku a Spirit that was defeating the Nightmares. Riku later woke Sora up from his slumber by defeating a Nightmare possessing him.
Gallery