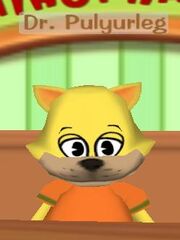 Dr. Pulyurleg
is a
Toontown Online
Toon
NPC (Non-Player Character) yellow
Cat
who resides in
Dr. Pulyurleg, Chiropractor
on
Punchline Place
,
Toontown Central
.
Toons have to visit Dr. Pulyurleg in order to complete their Toontown Central Toontasks. He is also a toon on YouTube (youtube.com/xcomputersystems) that teaches you the ins and outs of Toontown. He is a little bit like Coach Zucchini.
Trivia
*His name is derived from "Pull Your Leg".
That is also how Toons will pronounce it.
It may be why he is a chiropractor.
He will reward Toons the last Gag Track Training Film for Toontown Central.