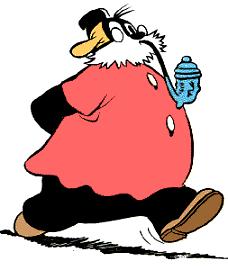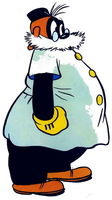 Doctor Einmug is a scientist who was created by Ted Osborne (plot) and Floyd Gottfredson (plot and art) in the story Island in the Sky, published in the Mickey Mouse daily comic strip from November 1936 to April 1937. He is a large man who wears a big white beard and laboratory coat.Doctor Einmug specializes in atomic physics and speaks in a German-like accent which was probably a nod towards Albert Einstein. His introductory story, Island in the Sky, raises many issues about the benefits but also the dangers of atomic physics just a few years before the first atom bombs were developed. After that, Einmug did not re-appear in American comics for almost 50 years, but he was used in Italian ones, starting some 12 years later in 1959 when he appeared in Romano Scarpa 's Topolino e la dimensione Delta ("Mickey Mouse and the Delta Dimension"). In this story he had discovered the means to travel to what he called the Delta Dimension, which was effectively an infinite void of nothing, just space. Setting his laboratory up in the Delta Dimension, Einmug pursued his work and discovered that atoms were in fact living beings. He thus increased the size of one of them to that of a small boy and named him Atomo Bleep-Bleep (Italian: Atomino Bip-Bip). Atomo was highly intelligent and had many supernatural abilities, including turning metal into chocolate or estimating with absolute precision when an object was created. Atomo would accompany Mickey on several adventures as a kind of alternative Eega Beeva. Einmug himself has also appeared in numerous European Mickey Mouse comics. He is often shown as less secretive and paranoid than in his original appearance, though his discoveries are still coveted by the likes of Pete and the Phantom Blot. Einmug reappeared in American comics in 1991 in the story A Snatch in Time! in which he had developed a time machine. It was written by Lamar Waldron and drawn by Rick Hoover and Gary Martin. More recently, Einmug has also appeared in American editions of "The Delta Dimension" and other European-made stories. In American comics, Atomo Bleep-Bleep speaks with a German accent identical to Einmug's, insofar as Einmug was presented as Atomo's language teacher.
External links
| | |
| --- | --- |
| | This page uses content from the English Wikipedia. The article or pieces of the original article was at Dr. Einmug. The list of authors can be seen in the page history. As with Disney Wiki, the text of Wikipedia is available under the GNU Free Documentation License. |
Ad blocker interference detected!
Wikia is a free-to-use site that makes money from advertising. We have a modified experience for viewers using ad blockers

Wikia is not accessible if you've made further modifications. Remove the custom ad blocker rule(s) and the page will load as expected.