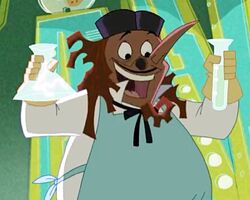 Dr. Carver's clone
is the main antagonist in
The Proud Family Movie
. He's a clone of the real and kind
Dr. Carver
, but he left his clone out in the sun too long, and had him horribly disfigured and disguised himself as Carver. Because of his disfiguration, the clone started to do evil things, and have the real Dr. Carver's peanut people work for him by force (except Wally). He was planning to rule the world by making muscular peanut men, but they were unstable when he found out about Oscar's formula, he invited Penny and her family. And he succeeded but Penny destroyed his army with the gas and he was in the gas, because he was, he turned by into a peanut and fell into the ocean.
Gallery
Ad blocker interference detected!
Wikia is a free-to-use site that makes money from advertising. We have a modified experience for viewers using ad blockers

Wikia is not accessible if you've made further modifications. Remove the custom ad blocker rule(s) and the page will load as expected.