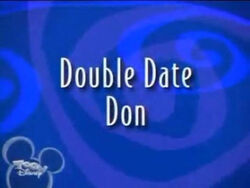 Double Date Don is a short from House of Mouse starring Donald Duck and featuring Daisy Duck and Clara Cluck.
Plot
Donald gets caught in a web of mistaken intention (in this case caught in a romantic affair with a lovestruck Clara Cluck, who was influenced by an off-screen rom-com flick on TV) when he builds a wall for Daisy as a Valentine's gift.
Trivia
This cartoon short has a dark moment in which Clara Cluck tries to throw herself into the sea from the pier with a bundle of bricks only to be saved by Donald. This is close to a suicide attempt, which is rather dark for a show like this.
Ad blocker interference detected!
Wikia is a free-to-use site that makes money from advertising. We have a modified experience for viewers using ad blockers

Wikia is not accessible if you've made further modifications. Remove the custom ad blocker rule(s) and the page will load as expected.