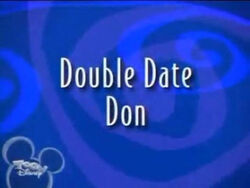 Double Date Don is a short from House of Mouse starring Donald Duck and featuring Daisy Duck and Clara Cluck.
Plot
Donald gets caught in a web of mistaken intention (in this case caught in a romantic affair with a lovestruck Clara Cluck, who was influenced by an off-screen soap opera on TV) when he builds a wall for Daisy as a Valentine's gift.
Trivia
This cartoon short has a rather dark moment for a show like this, in which Clara Cluck tries to throw herself into the sea from the pier with a bundle of bricks only to be saved by Donald. While this is in reference to a suicide attempt, the joke of this bit is that Clara used bricks that Donald needed for building the wall, with Donald expressing relief of "Almost lost my bricks" when he pulls Clara and the bricks out of the water.