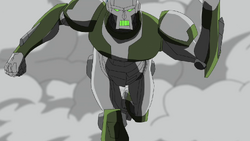 Doombots are Doctor Doom's creation and his own personal army. They are built with an arsenal of weapons. They can have holographic projectors so they can look like Doctor Doom. They are numerous and can be overwhelming. They have appeared in The Avengers: Earth's Mightiest Heroes, Avengers Assemble, Ultimate Spider-Man, and Hulk and the Agents of S.M.A.S.H..
Gallery
Ad blocker interference detected!
Wikia is a free-to-use site that makes money from advertising. We have a modified experience for viewers using ad blockers

Wikia is not accessible if you've made further modifications. Remove the custom ad blocker rule(s) and the page will load as expected.