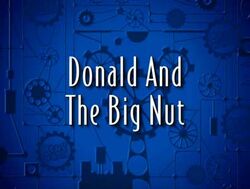 Donald and the Big Nut is an animated short originally featured in episode #12 of Mickey Mouse Works. Notably Chip 'n' Dale's first appearance on Mickey Mouse Works, it was later featured in the House of Mouse episode "Pluto vs. Figaro".
Plot
Donald tries to keep Chip 'n' Dale away from his acorns. But when he accidentally spills a super-grow formula on one, a super-sized acorn is at stake. It's either the chipmunks dinner or Donald's prize at the fair.
Gallery
Ad blocker interference detected!
Wikia is a free-to-use site that makes money from advertising. We have a modified experience for viewers using ad blockers

Wikia is not accessible if you've made further modifications. Remove the custom ad blocker rule(s) and the page will load as expected.