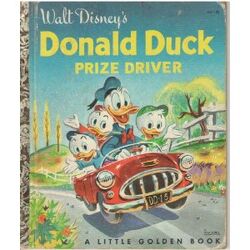 Donald Duck, Prize Driver is a 1956 Little Golden Book and Mickey Mouse Club book starring Donald Duck.
This story is included in Walt Disney's Story Land (all editions)
Details
Hardcover
Publisher: Simon and Shuster - New York; 1ST edition (1956)
ASIN: B000E1550A
Ad blocker interference detected!
Wikia is a free-to-use site that makes money from advertising. We have a modified experience for viewers using ad blockers

Wikia is not accessible if you've made further modifications. Remove the custom ad blocker rule(s) and the page will load as expected.