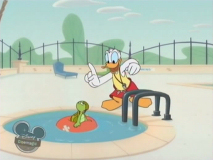 "Donald's Pool" is an animated short starring Donald Duck, originally featured in the 30th episode of Mickey Mouse Works. It was later the only standard-length short to be featured in more than one episode of House of Mouse, appearing in the episodes "Where's Minnie?" and "Suddenly Hades".
Synopsis
Donald's relaxing day by the pool is crashed by Mrs. Turtle, who only wants to sunbathe, and Baby Shelby who as usual, only wants to cause trouble.
Characters
Ad blocker interference detected!
Wikia is a free-to-use site that makes money from advertising. We have a modified experience for viewers using ad blockers

Wikia is not accessible if you've made further modifications. Remove the custom ad blocker rule(s) and the page will load as expected.