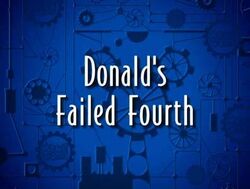 Donald's Failed Fourth is an animated short originally featured in the first episode of Mickey Mouse Works. It was later featured in the House of Mouse episode "Everybody Loves Mickey".
Plot
It's the Fourth of July and Donald Duck has found the perfect picnic spot to watch fireworks under the stars with Daisy. He battles the blanket, wrestles the lawn chairs, and combats the picnic basket until, finally, the site is set. But when Daisy arrives, she discovers that Donald has miscalculated and they can't even see the fireworks. Donald is disappointed to discover he has messed things up once again, but Daisy thinks the view is very romantic - a beautiful full moon.
Gallery
Ad blocker interference detected!
Wikia is a free-to-use site that makes money from advertising. We have a modified experience for viewers using ad blockers

Wikia is not accessible if you've made further modifications. Remove the custom ad blocker rule(s) and the page will load as expected.