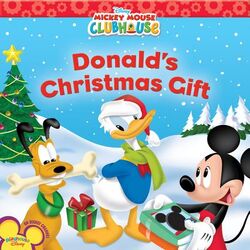 Donald's Christmas Gift is a Mickey Mouse Clubhouse book based on Mickey Saves Santa.
Plot
Merry Christmas! Join Mickey and Donald as they journey to the North Pole, to help Santa fix his broken sleigh. Find out whether the Clubhouse crew saves Christmas in this new storybook based on the hit DVD.
Details
Reading level: Ages 3 and up
Paperback: 24 pages
Publisher: Disney Press (August 28, 2007)
Language: English
ISBN-10: 1423107454
ISBN-13: 978-1423107453
Ad blocker interference detected!
Wikia is a free-to-use site that makes money from advertising. We have a modified experience for viewers using ad blockers

Wikia is not accessible if you've made further modifications. Remove the custom ad blocker rule(s) and the page will load as expected.