Ad blocker interference detected!
Wikia is a free-to-use site that makes money from advertising. We have a modified experience for viewers using ad blockers

Wikia is not accessible if you've made further modifications. Remove the custom ad blocker rule(s) and the page will load as expected.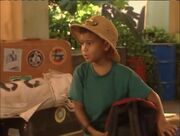 Dominque Lawson
is a boy who appeared in
Disney Sing Along Songs: Flik's Musical Adventure at Disney's Animal Kingdom
. In the video, he kept getting left behind from the group and didn't take a picture until the very end when he took a picture of the group.
Gallery