Dog With a Blog
Genre
Sitcom
Format
Created by
Michael B. Kaplan
Philip Stark
Directed by
Neal Israel
Shelly Jensen
Creative director
Starring
Voices of
Composer(s)
David Wilde
Opening theme
Number of seasons
Number of episodes
Production
Executive producer(s)
Michael B. Kaplan
Producer(s)
Running time
Production company(s)
Broadcast
Original channel
Picture format
Audio format
English
Original run
October 12, 2012-September 25, 2015
External links
[Source]
Dog with a Blog is an American television sitcom that premiered on Disney Channel on October 12, 2012, following the premiere of Girl Vs. Monster. It stars G. Hannelius, Blake Michael, Francesca Capaldi, Stephen Full, Regan Burns, and Beth Littleford. The show was co-created by Michael B. Kaplan, who also co-created Disney XD's I'm In The Band, in which Hannelius, Full, Burns, and Littleford have all previously starred or appeared. On February 4, 2013, Disney Channel renewed the series for a second season. Its average Nielsen rating was 3.4 for season 1. A third season was ordered by Disney on February 4, 2014. On March 28, 2015, Beth Littleford stated that the series has been cancelled and won't be renewed for a fourth season.
Premise
Avery Jennings and Tyler James are step-siblings from Pasadena who hate each other but came together in the pilot episode. The family faces an even bigger adjustment when they discover that their new dog, Stan, can talk and also has a blog, unbeknownst to the family. Only Avery, Chloe, and Tyler know he can talk. He uses his blog to discuss the happenings in the Jennings-James household. The children learn of his talking ability in the first episode and agree to keep it a secret from their parents, fearing that if the world finds out that he can talk, he will be taken away and experimented on.
In Stan Talks to Gran, Bennett's mother, Grandma James, learns Stan can talk. Knowing how much the kids love Stan, she promises to Stan that she will keep this a secret.
In Karl Finds Out Stan's Secret, Karl reveals he has known about Stan's ability for some time, but promises to keep this a secret, given how much they care for Stan.
In The Kids Find Out Stan Blogs, the three finally learn about Stan's blog.
In Stan Falls in Love, Stan meets the new neighbors' poodle, Princess, and instantly falls in love with her. He proposes to Princess in Stan Sleep Talks, and she accepts, making them engaged. They marry in Stan Gets Married, and in Stan Has Puppies, Princess gives birth to Freddy and Gracie.
In Stan's Secret Is Out, Bennett and Ellen finally find out about Stan's ability to talk, but he soon becomes famous so he won't get experimented on.
Episodes
Main article: Dog With a Blog episode list
Season
Episodes
Originally aired (U.S. dates)
Season premiere
Season finale
1
22
October 12, 2012
August 25, 2013
2
24
September 20, 2013
September 12, 2014
3
24
September 26, 2014
September 25, 2015
Cast
Recurring characters
Production
The series was co-created by Michael B. Kaplan, who previously co-created the Disney XD series I'm in the Band. Stephen Full was previously a cast member of that series along with Beth Littleford who had a recurring role. G. Hannelius and Regan Burns also previously guest starred on I'm in the Band, during its two-season run. Sesame Street and Muppets performer Paul McGinnis puppeteered specially made puppet legs for Stan for special effects shots (e.g. Stan's blogging) for several episodes. It is set in Pasadena, California.
Reception
The series premiere was watched by 4.5 million viewers.
| | |
| --- | --- |
| | This page uses content from the English Wikipedia. The article or pieces of the original article was at Dog With a Blog. The list of authors can be seen in the page history. As with Disney Wiki, the text of Wikipedia is available under the GNU Free Documentation License. |
v - e - d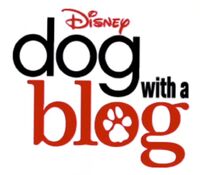 Episodes
Season One: "Stan of the House" | "The Fast and the Furriest" | "Dog with a Hog" | "Wingstan" | "World of Woofcraft" | "Bark! The Herald Angels Sing" | "The Parrot Trap" | "The Bone Identity" | "Stan Stops Talking" | "Dog Loses Girl" | "Stan-ing Guard" | "Freaky Fido" | "Guess Who's a Cheerleader" | "Crimes of the Art" | "Avery's First Crush" | "The Truck Stops Here" | "Avery's First Breakup" | "A New Baby?" | "Stan Talks to Gran" | "Avery's Wild Party" | "My Parents Posted What?!" | "Stan's Old Owner"
Season Two: "Too Short" | "Good Girl Gone Bad" | "Howloween" | "Stan Makes His Mark" | "Tyler Gets a Girlfriend" | "Don't Karl Us, We'll Karl You" | "Twas the Fight Before Christmas" | "Lost in Stanslation" | "Avery B. Jealous" | "Love Ty-Angle" | "Stan Runs Away" | "I Want My Nikki Back, Nikki Back, Nikki Back" | "Avery-Body Dance Now" | "The Green-Eyed Monster" | "Who's Training Who?" | "Love, Loss and a Beanbag Toss" | "How I Met Your Brother and Sister" | "Will Sing for Food Truck" | "Stuck in the Mini with You" | "Pod People from Pasadena" | "The Mutt and the Mogul" | "Stan Gets Schooled" | "Karl Finds Out Stan's Secret" | "The Kids Find Out Stan Blogs"
Season Three: "Guess Who Gets Expelled?" | "Howloween 2: The Final Reckoning" | "Avery Schools Tyler" | "Stan Falls in Love" | "Avery vs. Teacher" | "Stan Steals Christmas" | "Avery Makes Over Max" | "Avery Dreams of Kissing Karl" | "Dog on a Catwalk" | "Guess Who's a Cheater" | "Stan's New BFF" | "Stan Sleep Talks" | "Stan Gets Married" | "Guess Who Becomes President" | "Stan Has Puppies" | "You're Not My Sister Anymore" | "The Puppies Talk" | "Guess Who's Dating Karl" | "Murder of the Ornamental Dress" | "Stan Rescues His Princess" | "Cat with a Blog" | "Avery Starts Driving" | "Stan's Secret Is Out"